Shadforth Trophy
Sub-links for this page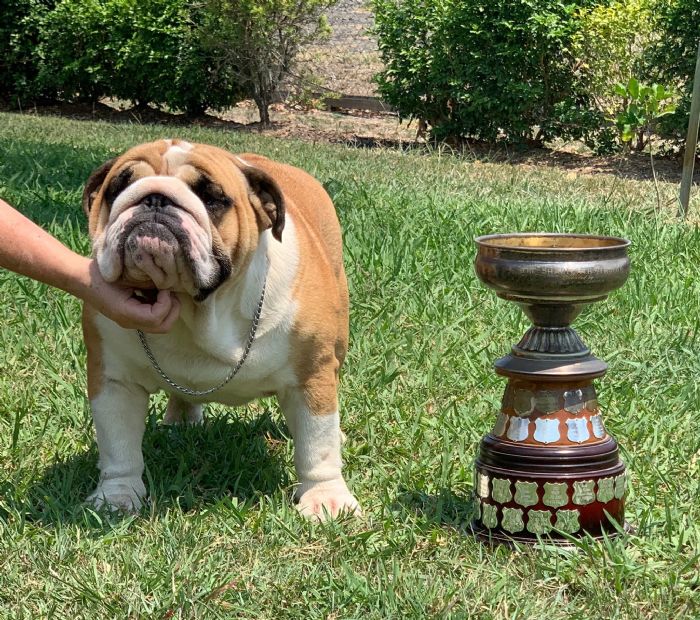 The Shadforth Trophy is the Queensland Bulldog Club's annual point score competition. The competition was designed by the Shadforth's, former members of the club, who also donated the Shadforth Trophy to the club.
The Shadforth Trophy is open to all Bullogs entered in the allocated shows, however to be eligable to recieve the perpetual trophy at the end of the year you must be a financial member of the Queensland Bulldog Club.
Secondly your dog/s must be of championship point scoring age, this is in Minor Puppy Class or older (6 months of age).
Five (5) points are awarded to Dog Challenge and Bitch Challenge at selected shows each year, with a further five (5) points being awarded to Best of Breed.
The dog with the most points at the end of each years calendar of shows is the winner.
The shows selected are decided by the committee of the club at the AGM each year.
The following are the dates* of the shows for the 2022 point score competition.
*show dates are subject to Dogs Queensland show dates being finalised
2022 Trophy Point Score Shows
Show
Date

Atherton Kennel Club

1 January

Gundog and Heavy Breeds Club
26 February

Toowoomba Royal Show

23 March

Queensland Bulldog Club Specialty Show

30 April
Gympie

Kennel Club

21 May

Townsville Kennel Assoc

25 June

Ladies Kennel Assoc

23 JUly
QLD Royal National Show
8 August
Nanango Kennel Club
24 September

Proserpine Kennel Club

1 October

Northern Classic Kennel Club

26 November
2022 Shadforth Trophy Leader Board
Show
Best of Breed & Points
Opposite Challenge & Points

Atherton Kennel Club

Gundog and Heavy Breeds Club

Toowoomba Royal Show

Queensland Bulldog Club Specialty Show

Gympie

Kennel Club

Townsville Kennel Assoc

Ladies Kennel Assoc

QLD Royal National Show

Nanango Kennel Club

Proserpine Kennel Club

Northern Classic Kennel Club